Thursday, April 20, 2006
Only in Tampa Bay...
According to this Devil Ray fan/blogger, the O's "
just plain suck and are hopeless
" this season.
As I type this, Chris Ray is one more out from sealing a series win against Cleveland, taking us to 10-7 on the season.
3 and 2 count now... 2 outs...
The crowd is on their feet...
Foul ball.
Here we go again...
Crap-a-doodle.
He walked him.
Where's Pat Sajak When You Need Him?
Luis Matos went on the DL last night... time to spin the WHEEL... OF.... PAIN!!!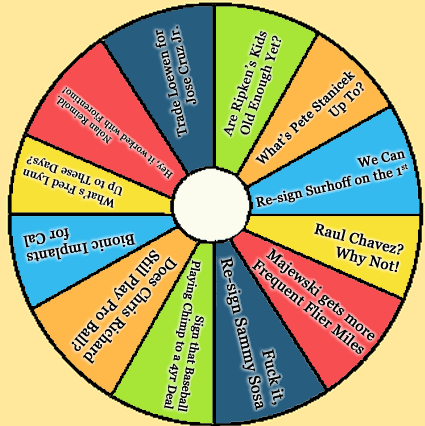 Personally, I was hoping for either Stanicek or the Baseball Playing Chimp. Alas, it landed on Raul Chavez.
Dem O's Last Night: O's win with six Field Goals
18 freakin' runs
? 21 freakin' hits? Sweet lord have mercy.
Jeez, and you thought the O's bullpen had issues.
Well, it does, but at the very least we've seen one in even worse shape than ours. The Indians' relievers were falling like flies last night.
Matt Miller and Rafael Betancourt
both pulled up lame in the same inning. Ouchies.
Erik Bedard
goes for the O's this afternoon. A victory would take him to 4 and 0, a start every bit as hot as last year. Rookie
Fausto "El Diablo" Carmona
looks to spoil Senior Day at Camden Yards, where nebulously defined "Senior Citizens" can get a ticket and a box lunch (Mmm... prunes) for just $15.
Wednesday, April 19, 2006
Dem O's Last Night: Something Positive in a 15-1 Loss
Positives from
last night's 15-1 drubbing
at the hands of the Cleveland Indians:
No one died
No one was seriously injured
Um, yeah... that's about it.
Tuesday, April 18, 2006
Dem O's on the Farm: Loewen Not So Hot, Liz Thermonuclear
Newhan DLed, Jersey Kid Called Up
David Newhan's Leg = Broken
Val Majewski = Early Season Recall
Orioles Organizational Depth = Sad

Sunday, April 16, 2006
Aww... Chris Ray made a friend!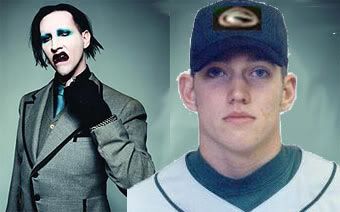 Hey, I'm all for closers having intimidating music played upon their entry to the stadium. Chris Ray should be no exception, as he's owning the opposition early this season.
But Marilyn Manson?
Ewwwwwwwwww!
"Sweet Dreams (Are Made of These)"... I get the point. He's putting the competition to bed. Gotcha. But Marilyn Manson's just a little too... oh, I don't know,
CREEPY
for a family-friendly atmosphere.
Besides, what if the O's surprise the crap out of everyone, and they make it to the playoffs. Then what?
"Hey, let's get Marilyn Manson in the flag court before the ninth inning to play 'Sweet Dreams' live. The kids will LOVE that?"
Yeah, that won't work.
I know Mariano Rivera and Billy Wagner use "Enter Sandman" by Metallica, but that just seems docile by comparison.
Does anyone have nightmares about Lars Ulrich killing them in their sleep?
Does anyone spread stories about James Hetfield getting ribs removed to suck his own Mr. Winky?
I'm just saying, Manson makes me a little uncomfortable. As a fan.
So, I submit to you, some other options for Chris Ray's entry music.
Closing Time by Semisonic
An under-used classic. Todd Jones of the Detroit Tigers used to use it. For god's sakes, the very first words are "Closing Time". A closer. Closing time. Get it? Recommended by my amigo Chris of WBAL-TV.
DOA by Foo Fighters
A fresh song that would fit well. The chorus includes the line "... no one's getting out of here alive." Those words are pretty macabre, but not as much as, say, MARILYN MANSON.
Hot in Here by Nelly
The purpose of this is two-fold. First, it alludes to the heat Chris Ray brings to the mound. Second, it reminds fans that Anna Benson may be in the stands, and she likes to take her clothes off.
The Ultimate Sacrifice by Ben Folds
A little piano heavy metal oughtta freak out the opposition. Think about it.
Over Now by Alice in Chains
Again, pretty self-explanatory.
Any other suggestions? The faster we rid the ballpark of Marilyn Manson, the happier I'll be.
Friday, April 14, 2006
Dem O's Last Night: A Little Magic
The beauty of being an O's fan is any come-from-behind win can fall under the nebulous category of "Oriole Magic".
Ah, Oriole Magic, those halcyon days of the late 70's and early '80s when no lead was insurmountable.
Last night,
Melvin Mora
brought a touch of Oriole Magic to Tampa Bay,
connecting for the game winning shot in the top of the 9th off Dan Miceli
.
For the love of all that's good and holy, give Melvin a new contract!
Meanwhile,
Jim Brower's
first two weeks out of the bullpen have vaguely resembled someone pouring gasoline on a raging inferno and chanting incantations to the dark lord Satan.
Not a good start.
The O's return home to Camden Yards tonight for a 4 game dance with the "Los Angeles Angels of Anaheim".
F**k it, for the rest of the weekend, I'm calling them the California Angels.
Put
THAT
in your pipe and smoke it!
Rodrigo Lopez
tries to get his ERA down to sub-Sidney Ponson levels tonight while going for his second victory;
Ervin Santana
will try to rain on the O's parade.
Where Are Dem O's Now? Royals Edition
The Orioles aquired Denny Bautista in 2003 for Jeff Conine.
In 2004, we traded him to Kansas City for old and busted reliever Jason Grimsley, whose arm promptly exploded and sent him to the magical land of Tommy John surgery.
Yesterday afternoon, Bautista struck out seven Yankees in five innings, allowed four earned runs and took the loss.
Jason Grimsley is, surprisingly, not bagging groceries at your local Super Walmart. He's getting torched out in Arizona, currently sporting a not-so-lovely 8.31 ERA.
Winner in all this: Kansas City
Thursday, April 13, 2006
Separated at Birth?
Recently recalled reliever Chris Britton:
Pro Wrestler King Kong Bundy:
Seperated at Birth? You be the judge.
At least we're not comparing Britton to Sidney Ponson.
Yet.
A Quasi-Dream Becomes a Reality
Thought this would be a good idea instead of constantly posting these little tidbits over at
Birds in the Belfry's
message board.
So here's my O's blog.
Features you can look forward to:
Dem O's Last Night (A Recap of the prior day's game)

Where Are Dem O's Now? (Where O's of the past are toiling now)

Dem O's On The Farm (O's Minor League News)

Loewen Watch (Tracking the progress of top prospect Adam Loewen from Bowie to his date with Camden Yards in 2007)
And, you know, whatever else I feel like talking about.
Stay tuned and enjoy!